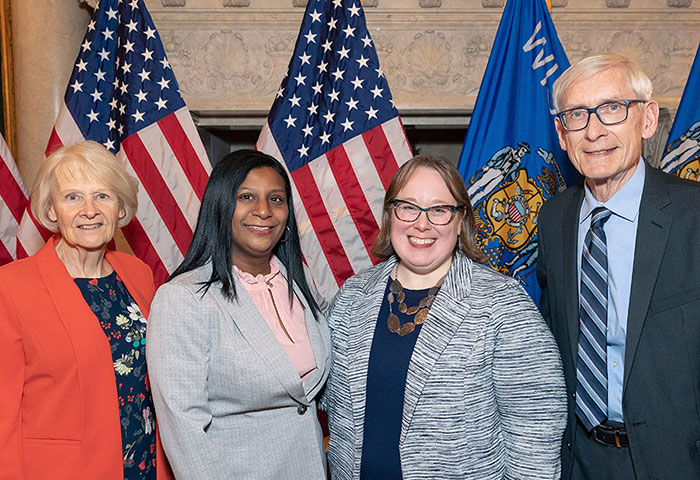 2022 Financial Literacy Award from Wisconsin Governor Tony Evers
Racine FEC Managers Dasheika Kidd and Vicky Selkowe attended the award ceremony held in the State Capitol on April 21, 2023, and are pictured here with Governor Evers and First Lady Kathy Evers. Know More
Wisconsin Department of Financial Institutions
April 21, 2023
Racine FEC honored with one of Governor Evers' 2022 Financial Literacy Awards
Racine Journal Times
August 26, 2021
Racine Financial Empowerment Center off to a successful start; city residents see $100k in debt reduction
Racine County Eye
July 16, 2021
Racine County Residents Encouraged to Claim Child Tax Credits. Eligible families are encouraged to claim the Child Tax Credit (CTC),
Racine Journal Times
April 16, 2021
FEC Poised to Help Residents Use Their Stimulus to Their Best Advantage. The Racine FEC offers free, one-on-one financial counseling.
Racine County Eye
January 15, 2020
Shore up your finances with the Financial Empowerment Center
Wisconsin Public Radio
January 12, 2021
Racine Financial Empowerment Center Provides Advice to Residents
WUWM 89.7 Milwaulee's npr
December 10, 2020
Wisconsin first community in Wisconsin to join financial advice program for residents.
Spectrum NEWS1
December 8, 2020
Racine Launches State's First Financial Empowerment Center to Help Those Struggling
The Journal Times
December 7, 2020
Racine to become 31st city in the nation and 1st in Wisconsin to offer financial coaching as a public service
The Journal Times
October 15, 2019
The city of Racine wins grant to expand financial counseling
Contact us with any questions. Click here or schedule an appointment today for your first session and your first step towards a brighter financial future!